The #1 source for specialty coffee in Europe
European Coffee Trip is a growing platform connecting coffee enthusiasts with specialty cafés all around Europe. Since 2014, our mission has been to build a curated database of exceptional coffee spots dedicated to specialty coffee culture. With over 1.8 million annual web views and 75,000 app downloads, we assist more than 3,500 coffee lovers in discovering their perfect café destination daily.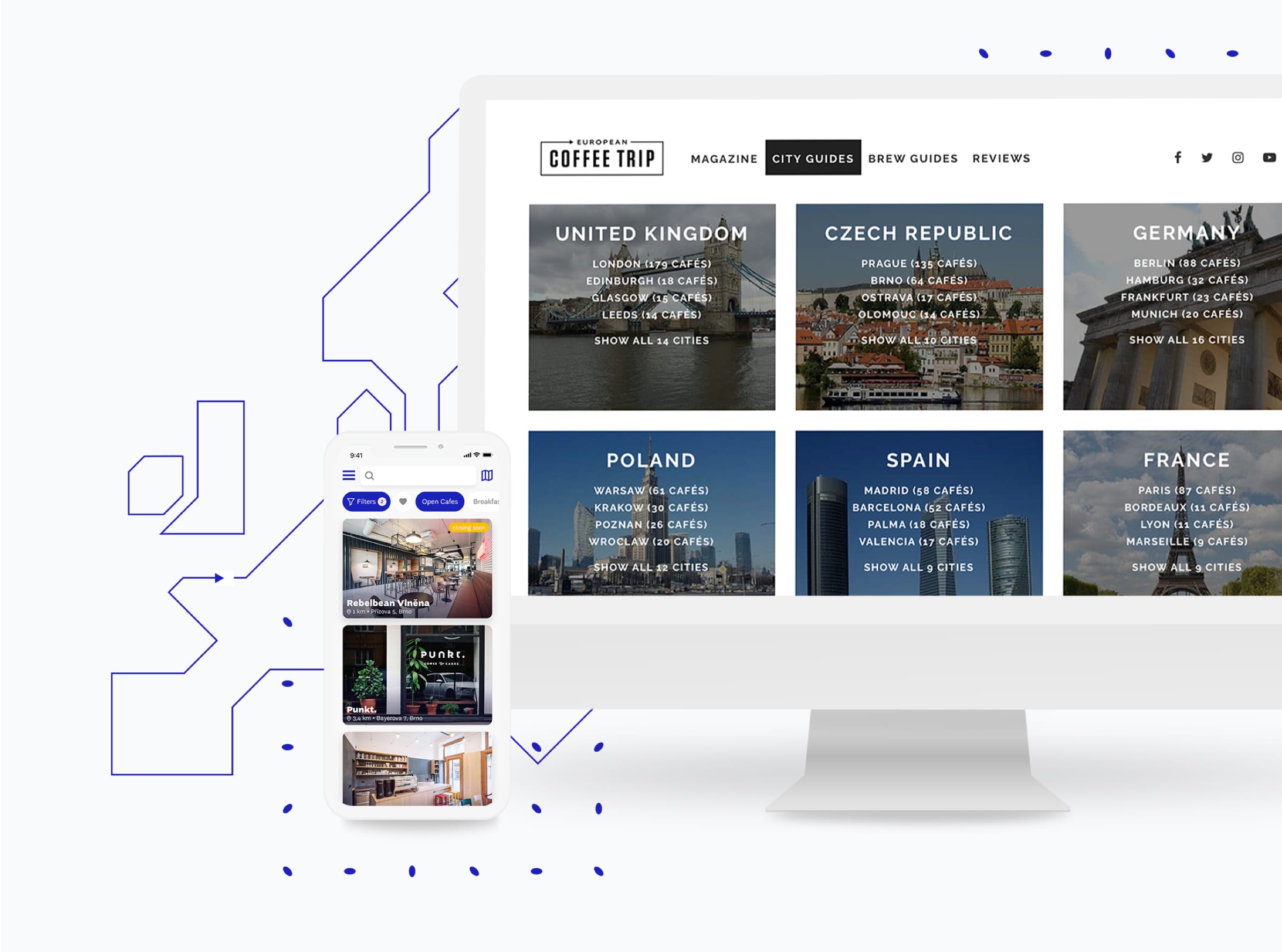 Testimonials
What others say
Frequently asked questions
Have a different question and can't find the answer you're looking for? Reach out to our support team by sending us an email and we'll get back to you as soon as we can.
How do I add a coffee shop to European Coffee Trip guides and apps?

Cafe owners and managers can submit their specialty cafes for review. It's the first step to getting to know the place and evaluating whether it meets all the criteria to be included in our guides. Also, coffee lovers can suggest new specialty cafes to feature. Our team contact the suggested cafe, asking them to submit their cafe for review.

How long does it take to add the profile to your guides?

Adding a new cafe profile takes several days to several weeks. We receive many new cafe recommendations daily (20 - 40 on average). Our team carefully reviews every cafe profile to accept only ones that meet our high standards. We offer an option to speed up the process by subscribing to a premium profile. Then we guarantee to evaluate the submission within two working days.

Does specialty cafe need to pay to be featured in guides?

No! It's free to be featured in European Coffee Trip guides. The cafe earns a privilege by serving its customers specialty coffee with high standards. However, we offer paid profile options that allow cafe managers to benefit from premium features.

Can I add more photos to the cafe profile?

Photos are important for our users to pick the cafe to visit. There is a limit to one image for a basic (free) profile. If you subscribe to a premium profile, you can feature up to 10 photos in the profile gallery.

Can I create a custom description for my cafe to attract more customers?

There are two blocks of promotional text that cafes with a premium profile can use to explain how their café stands out from the crowd. Besides more photos and premium badges, it's another way cafes can make their presence in our guides & apps more attractive to customers.

My coffee shop is already featured; how can I update the information?

We invited all cafes in our guides to claiming their profile through email. Please check your spam folder or reach out to our team. They will help you with onboarding, and then you can easily update the information in the cafe profile.
Sponsored content
Cropster Cafe
With Cropster Cafe you can improve and share brewing standards, track coffee quality, plus manage cafe-related tasks across locations, staff and equipment. It's mobile ready, accessible from anywhere and includes full support from Cropster.
More about Cropster Cafe
Want product news and updates?
Sign up for our newsletter.